Posted: March 14 2013 at 12:00 AM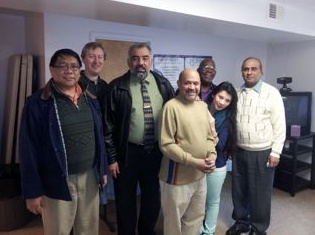 On March 9, 2013, Justice For Our Neighbors (JFON) opened its Chicago Clinic site for the first time. Six clients made appointments ahead of time to come to the clinic. As those guests arrived, they found over 20 volunteers from Humboldt Park United Methodist Church and other communities of faith surrounding them with hospitality, childcare, and assisting in providing high quality immigration legal services. As the JFON-NIC Regional Attorney, Jenny Ansay, noted, "nearly all the volunteers [were] immigrants themselves (or, like me, children of immigrants), and there was just such a great sense of community and excitement to get it started."
Also in attendance were the Rev. Zaki L. Zaki, Chicago Northwestern District Superintendent, the Rev. Lisl Heymans Paul, Chair of the Board of JFON-NIC, and the Rev. Paula Cripps-Vallejo, Vice-Chair of the Board of JFON-NIC. Rev. Zaki has worked for many years to bring a JFON clinic to Northern Illinois and expressed delight at seeing those efforts coming to fruition.
Rev. Paula Cripps-Vallejo highlighted the spiritual nature of that welcome that JFON provides. "I saw the kingdom of God come to life during the opening of the Chicago JFON Clinic, the hospitality and inclusive love of God revealed through the volunteers and our lawyer, and the hope on the faces of those we are blessed to work with as clients." She continued, "The Spirit was flowing in such a way, that it was visible; in the passion and excitement of the Humboldt Park UMC site team I saw the compassion of Christ revealed."
Since 1999, JFON has been a national program that has provided free, high quality immigration legal services to the most needy and vulnerable in the U.S. In the Northern Illinois Conference, JFON-NIC was established in 2010, with the first clinic opening in Aurora in 2011. That clinic will celebrate its second anniversary on April 6 with the presence of Bishop Sally Dyck and many Cabinet members in the Northern Illinois Conference.
These immigration legal clinics were formed because of the complex and punitive legal maze that many immigrants face as they attempt to extend or adjust their legal status. Many immigrants have stated that they have been harmed by those pretending to offer legal advice while defrauding them out of scarce dollars. By offering an immigration legal clinic in a church, JFON exists to restore trust and provide help where it is most needed.
This is the second fully established clinic JFON-NIC in Northern Illinois. A temporary satellite clinic is also operating in Carol Stream. A third clinic site is currently being developed, and that site will become the final clinic site in Northern Illinois at this time. As Jenny Ansay said about the Chicago Site, "It is a great addition to our 4th Street UMC Clinic in Aurora and our temporary St. Andrew Clinic in Carol Stream. I'm happy that it allows us to serve even more immigrants and puts us on the way to being a fully operational region."